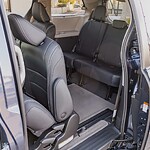 Have you ever been on a long road trip with your children and felt like you were never going to make it to your final destination because they were bored and driving you nuts? If so, the popular Toyota Sienna minivan might be the solution for you since it comes equipped with features that provide entertainment options for the kids and peace of mind and tranquility for the adults.
The dual-view Blu-ray entertainment center lets your kids take over the backseat while watching their favorite movies on a 16-inch screen. No need to agree on a movie to watch since the player lets you view two movies at once thanks to its split-screen feature. Dual power sliding doors make it easy to unload the family once you reach your final destination.
If you need a better option for your kids, come to Ramey Toyota to test ride the Sienna today.