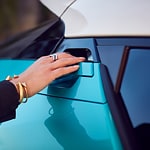 How important is safety when you're selecting a new vehicle? If you're like us, it's a top priority. That's why the Toyota C-HR, a popular subcompact SUV, is now a part of our lineup at Ramey Toyota.
The C-HR comes with a variety of excellent standard safety features. Any time you reach 32 mph or higher, the lane departure alert system activates. If you drift outside of the lane markers, it sends an audio and visual warning. In some cases, the C-HR can even correct your steering to get you back in place.
After dark, high beams help you see more clearly — the C-HR comes with automatic high beams for even better visibility. This system detects lights from oncoming traffic and the cars in front of you. Then, it switches the high beams on and off as it's safe to do so. See how this eases fatigue when you test-drive the C-HR with one of our staff members in Princeton.